Maxkare 8FT Trampoline with 360 Safety Enclosure for Kids & Adults Outdoor Backyard, 300 lbs Weight Capacity
48 Heavy Duty Drum Springs Using highly reinforced drum springs, our 244cm trampoline can withstand 20,000 pull tests for fun and safe jumps. Thick spring covers Comprehensive foam and PVC spring covers prevent pinching during jumping Double-sided zipper and perimeter net The 360 perimeter net designed for our trampoline further protects children from injury. The zipper design allows easy access from both directions.
Feature of the 8FT Trampoline:
6 foam-covered bars and 360° enclosure net for our 8 ft trampoline offer you comprehensive protection. Materials are all-weather use, anti-fading and waterproof. Let your kids jump happily on this backyard bouncer!
48 heavy-duty springs & 8 ft wide of the trampoline, provide spacious jumping space and hold 2-3 kids or adults within the 300 lbs weight capacity. Let your kids enjoy the feeling of zero gravity in the comfort of your own house!
The materials of the 8 ft trampoline are waterproof and depending on the size of your field, you can place them indoors or outdoors, no matter in autumn or winter, spring or summer, kids can enjoy jumping and exercise at the same time.
The 8ft trampoline is durable and rust-proof galvanized stainless steel, which provides longer life. Three U-shaped solid feet at providing sufficient support.
Detailed assembly instructions are in the users' manual, and we provide a step-by-step assembly video for further demonstrations. All of our bouncers are thoroughly tested for their safety and durability; Meet or exceed ASTM standards.
Package List:
1 x 8FT Trampoline w. Steel Frame
1 x Trampoline Spring Pad
1 x Safety Enclosure net
1 x Anti-skid ladder
1 x Spring Pull Tool (T-Hook)
1 x Instruction Manual
48 x Springs
6 Foam-covered Bars and 360° Enclosure Protection
Anti-fading and Waterproof
Maximum Weight Capacity: 300 lbs

48 heavy-duty springs and 8FT width

U-Shaped Steel Legs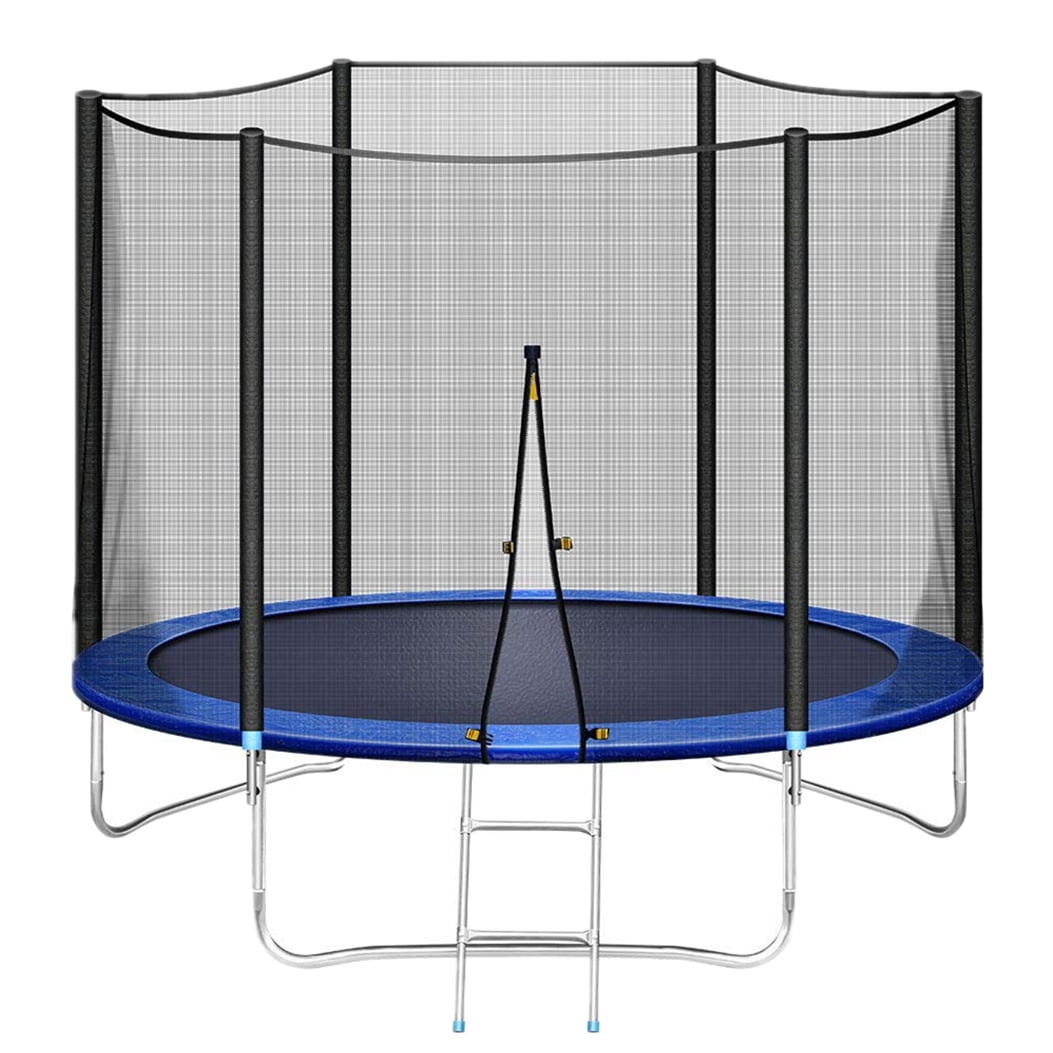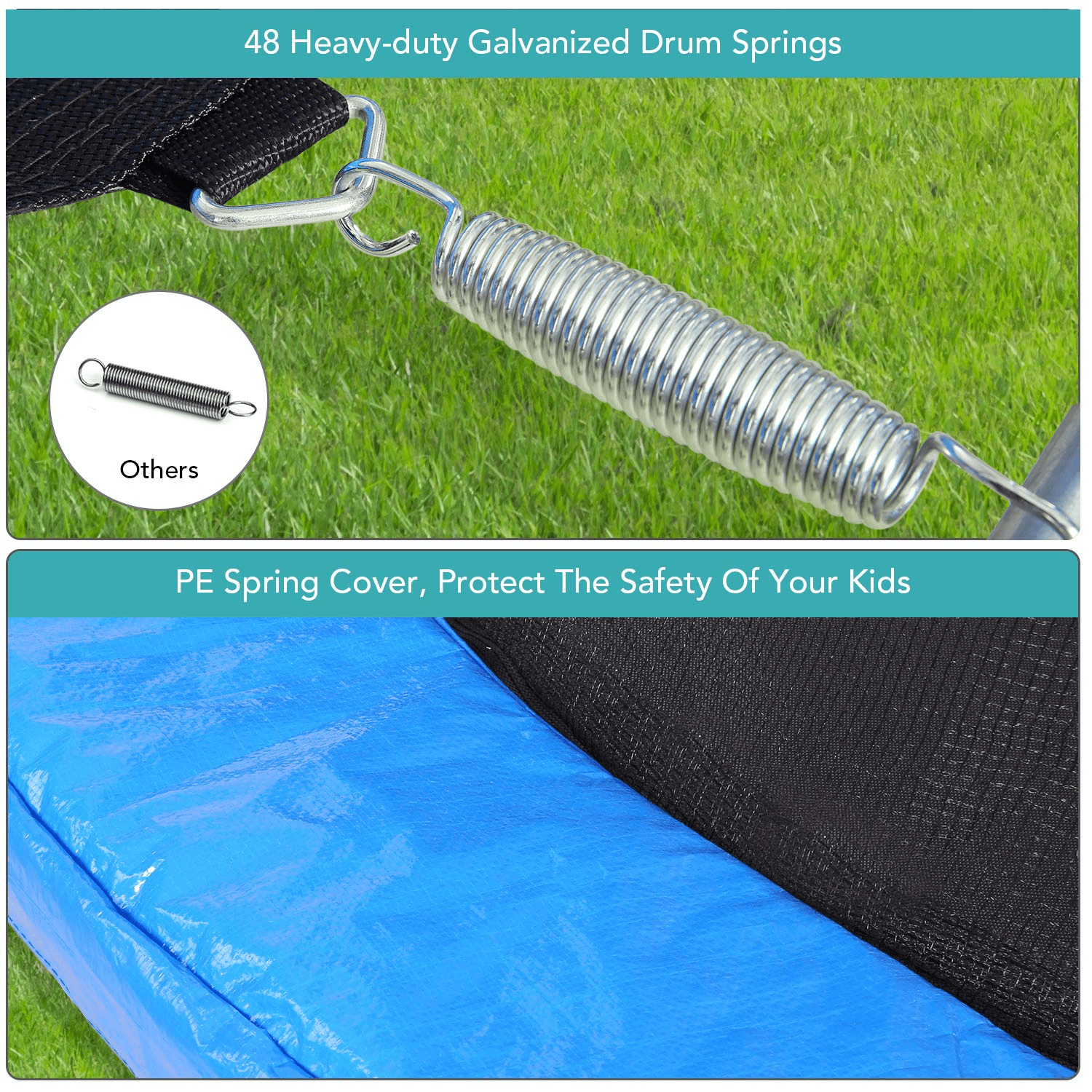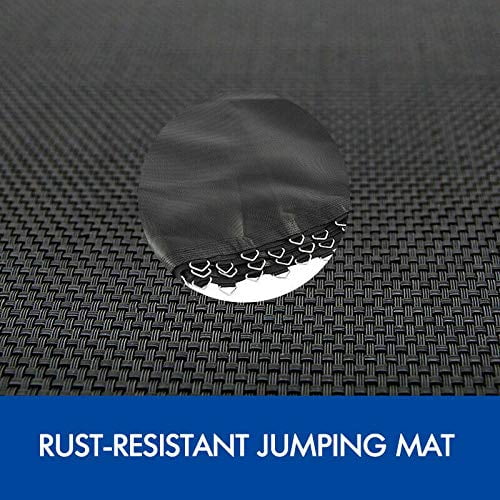 Recommends