MINTIES Dog Dental Bone Treats, Dental Chews for Medium/Large Dogs over 40lbs, 40 Count
The mouth-watering dental treat dogs can't resist! With a delicious blend of real peppermint, VetIQ Minties Medium Dental Dog Treats for 20 to 39 Pound Dogs are flavorful treats designed to give your dog fresh breath and a sparkling smile. Minties Bone Treats help remove plaque and tartar by the mechanical action of chewing! There's nothing sweeter than an affectionate kiss from your favorite pooch but unfortunately, bad dog breath can often ruin what should be a sweet and endearing moment. We offer a variety of vet-recommended pet wellness supplements, including our Minties dental treats which are specially designed to control plaque and tartar in your dog's mouth, help clean teeth, and ultimately freshen your pet's breath.
One vet-recommended Minties Dog Dental Treat is all it takes to start dog teeth cleaning and freshening, and to help remove plaque and tartar.
Minties Dental Treats for Dogs contain NO WHEAT, CORN, OR SOY. No added sugars or salt.
Minties Dog Dental Treats contain five breath fresheners: alfalfa, peppermint, parsley, fennel, and dill.
Keep your dog's teeth and gums healthy and clean with Minties Dog Dental Chews. Helps remove plaque buildup and controls tartar as they chew.
These dental chews for medium to large dogs are  and specially formulated for medium to large dogs weighing over 40 pounds.
40 treats per bag, give your dog the mouth-wowing treat that helps promote their overall health with Minties Dog Treats.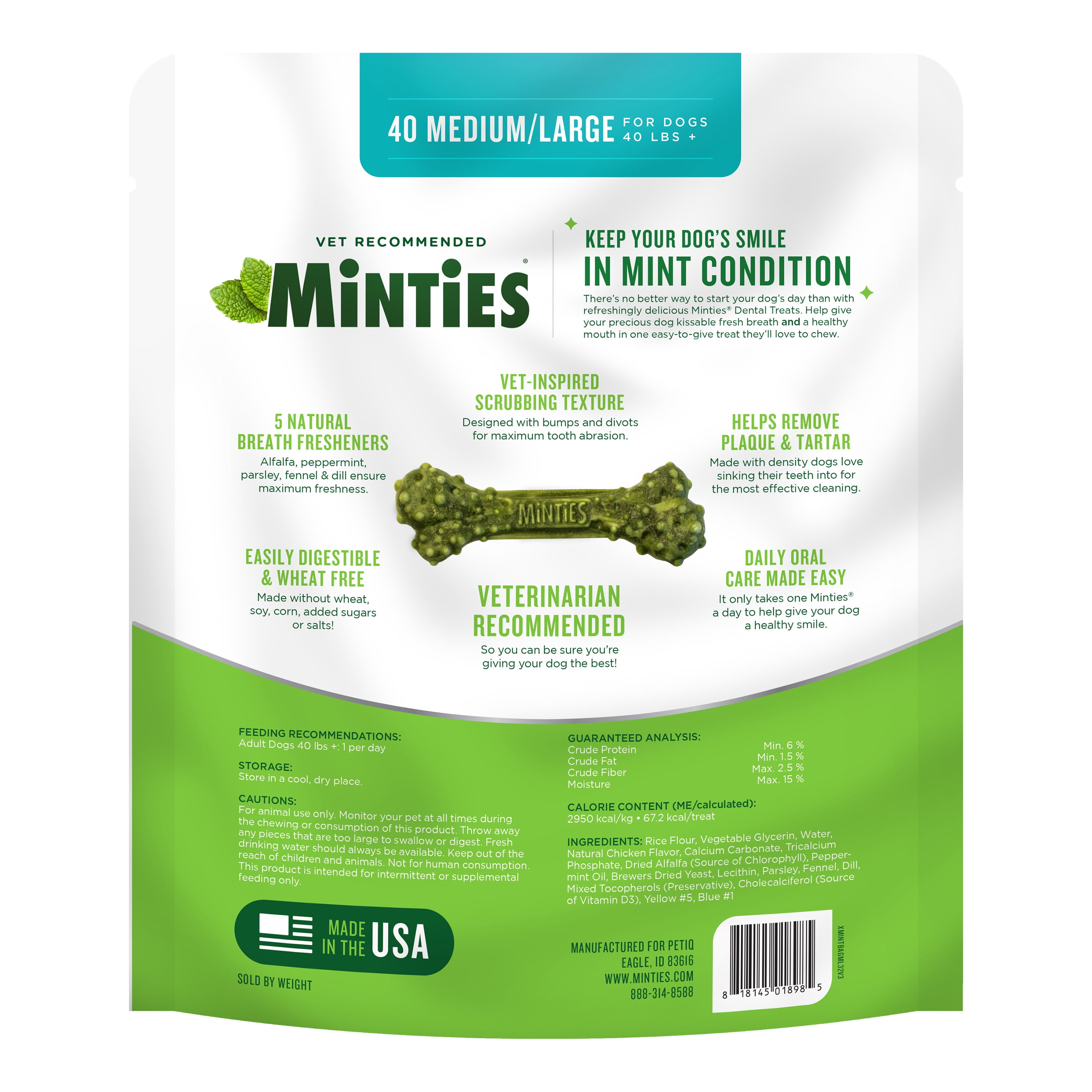 Recommends