QUANFENG QF Hammock Nylon Portable Travel Camping Hammock, Blue/Gray
Maybe you've seen hammocks around your friend's cottage, while backpacking or camping, or maybe at the local spa. No matter where you are, there's usually a camping hammock close by. Hammocks are becoming popular these days, now enjoy your time laying in the comfortable hammock! This durable hammock can be used for may occasions, for example: Use it as a hammock, to sleep in it, read books, play cell phone or computer. Use it as a swing, to enjoy the fun of swing, high and low, quick and slow. Use it as a picnic blanket, it can be laid on the grassland, and you can do whatever you want on it. It's convenient to store & easy to carry, perfect for both indoor and outdoor Usage. The material of the hammock is strong, durable and has good air permeability; Moreover, the bag is attached to the hammock, making it more convenient for storage. The portable hammock packs down to the size 18 cm x 7 cm x 24 cm (7" x 2.7" x 9.5"), weighs only 440 g (0.97 lbs), with accessories like Stainless Steel Carabiner 1 set & 2 ropes included. Using 210 T Nylon material, which is a durable fabric, the nylon hammock can carry maximum weight up to 150 kg (330 lbs). The size of unfolding hammock is 260 cm x 140 cm (103" x 55"), comfortable for most people. The lightweight hammock is very easy to set up. Just tie one end to the Carabiner (which connects with one end of the hammock), and the other end of the rope to the trees by making a knot.
Portable and lightweight hammocks attached with carrying bag and straps, carabiners.
Easy to carry and install, convenient to store.
Strong & breathable 210 T nylon material adopted, durable and comfortable.
Holds up to up to 150 kg (330 Lbs).
Measuring in at about 8.6 feet long and almost 4.6 feet wide, spacious for one adult.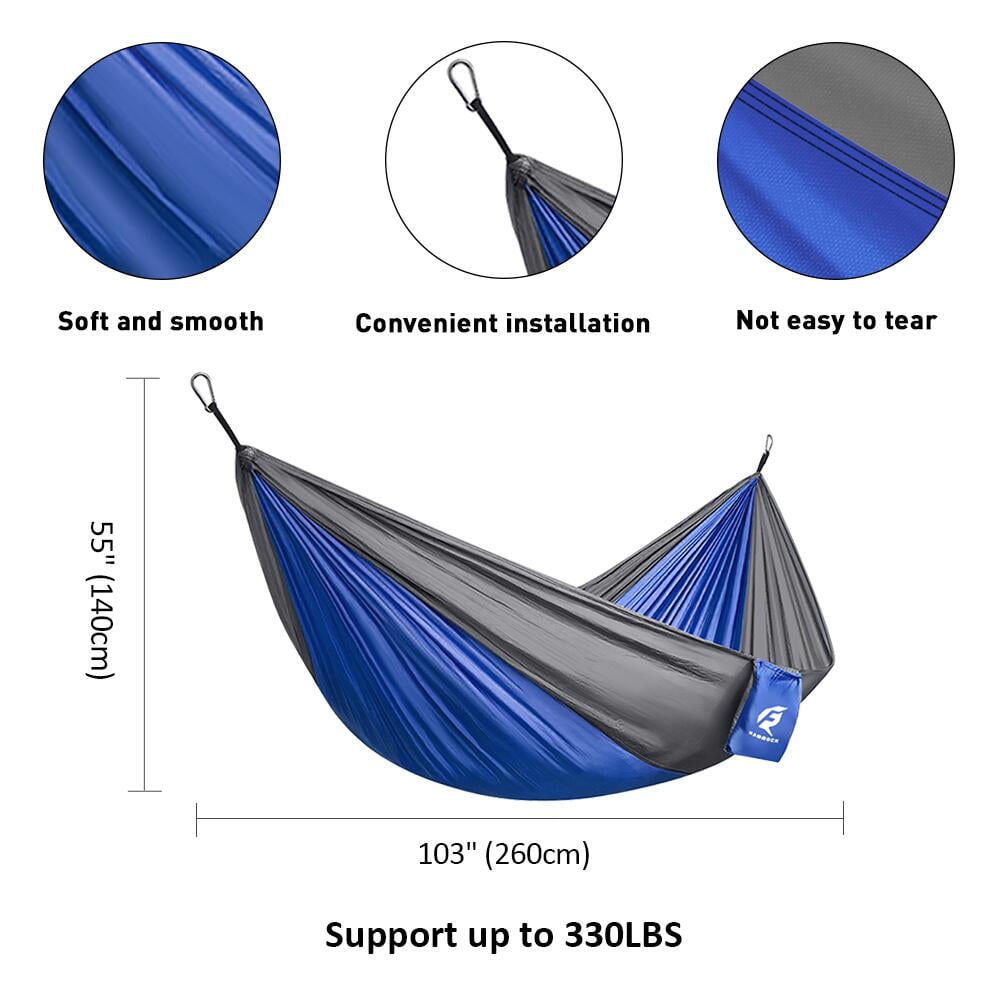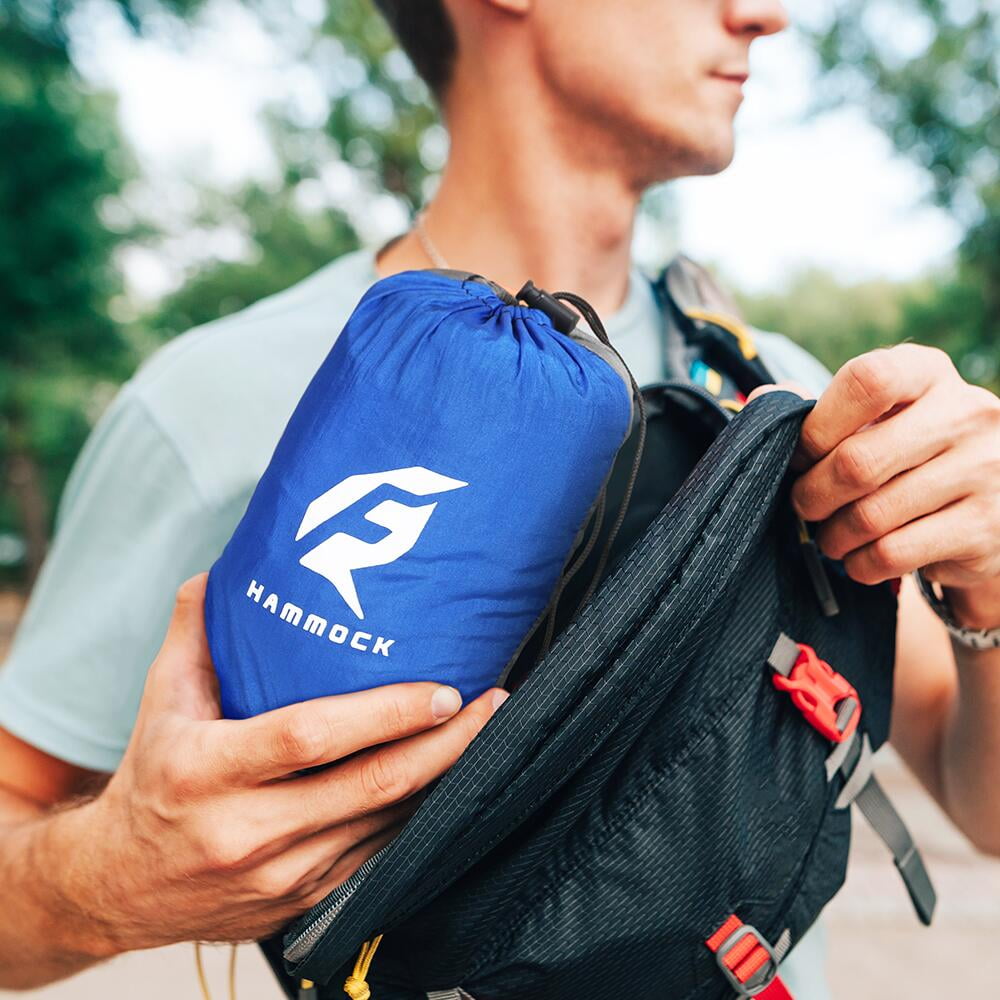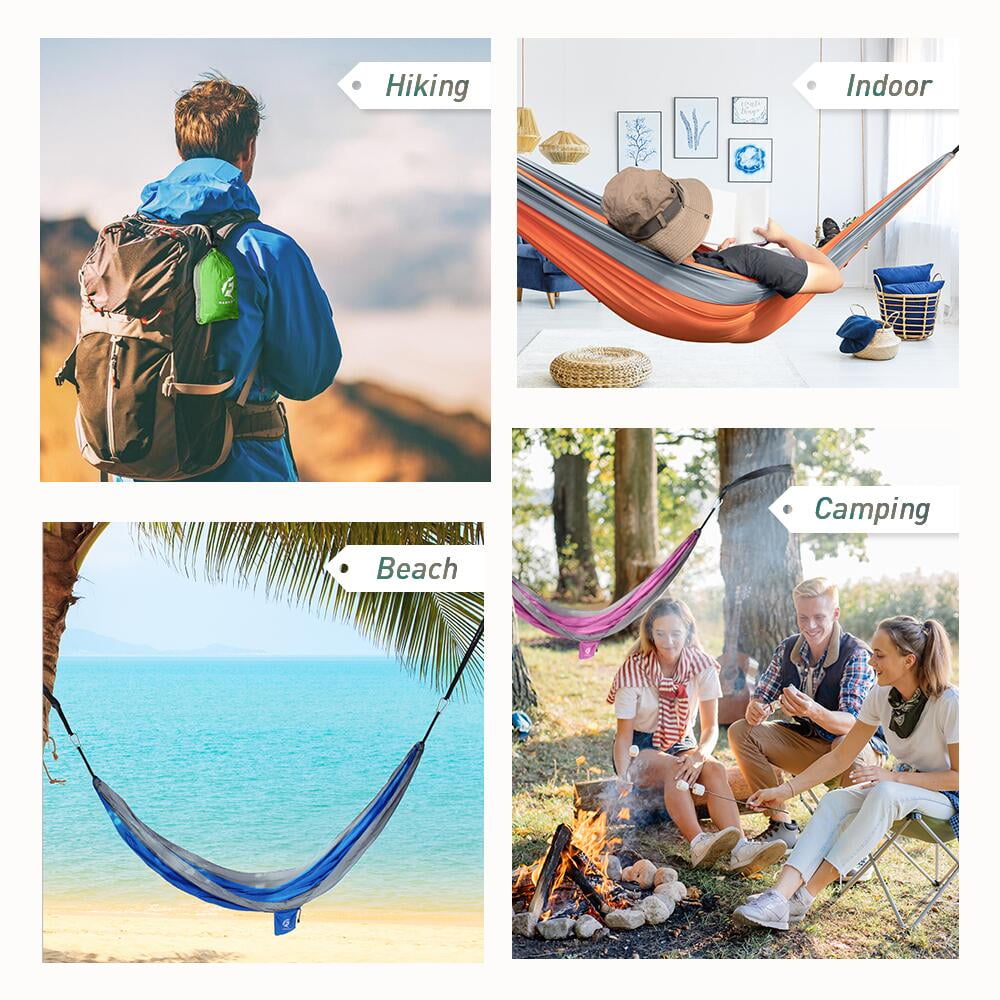 Recommends