ECOVACS DEEBOT N8+ All-In-One Robot Vacuum Cleaner and Mop, Auto-Empty Station
Premier Robot Cleaner
ECOVACS DEEBOT N8+ is a dependable, all-in-one vacuuming and mopping robot designed to seamlessly integrate into your life. This cordless vacuum contains strong 2300Pa suction power which removes hard-to-reach dirt and dust on carpet and floors. The vacuum's advanced laser navigation and mapping plans the most efficient cleaning path and utilizes a precise, interactive map of your floor. The ECOVACS DEEBOT N8+ also includes an Auto-Empty Station for complete hands-free clean up and convenience.
About ECOVACS Robotics
Long before the "Smart Home" concept became fashionable ECOVACS Robotics (ECOVACS) was already at the forefront of innovation in smart home robotics, exploring new ways for robots to transform homeowners' lives. ECOVACS' more than 20 years of work in smart home robotics has seen the company transformed from a visionary startup into a global corporation with a mission of building world-class robots for home and industrial cleaning, air-purification, security and surveillance, and even in-store sales assistance for retailers. Designed to change the way people live and work, ECOVACS robots are now available in over 60 countries around the world.
Our guiding vision — "A robot for every family" — encourages customers to "Live Smart. Enjoy Life" with stylish and functional robots that are more than simple household appliances. We create home service robotics that make life easier, smarter, more efficient and connected, freeing you to spend more time doing what you love, with the people you love. At ECOVACS, we believe our smart home robotics with their unique mobility and spatial awareness capabilities will be an integral part of smart home in the future.
ECOVACS DEEBOOT N8+ All-In-One Robot Cleaner And Mop with Auto-Empty Station
Low noise level during cleaning
Auto-Empty Station automatically empties dustbin into a hypoallergenic, disposable bag for maintenance-free cleaning
Offers advanced custom cleaning options such as no-go zones, by room or area, and travel to multiple floors
Vacuums and mops in-one-go, with automatic carpet detection and precise electronic water flow control
Exceptional 110 minute runtime and returns to the charging dock when low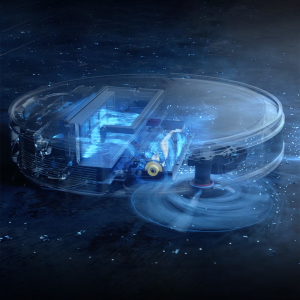 Powerful Suction at Low Noise Levels
With a maximum suction power of 2300Pa, N8+ is serious about removing dirt and dust stuck deep in floor crevices or embedded in carpet. Its all-new fan motor design uses glass fiber material to optimize energy and durability, all while keeping the volume down.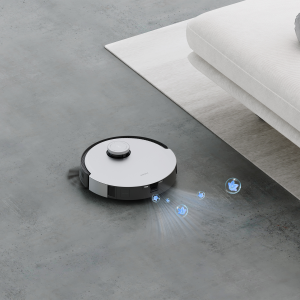 Vacuuming and Mopping with Auto-Carpet Detection
Mop and vacuum all in one step. Using ultrasonic sensors, N8+ avoids carpet when mopping hard floors, and automatically doubles the suction power when vacuuming carpets. Unlike the messy drip system of other mopping robots, OZMO Mopping System uses a precision micro-water pump to avoid leaks and over-wetting of floors. With four levels of water flow, you can adjust the settings to fit your needs.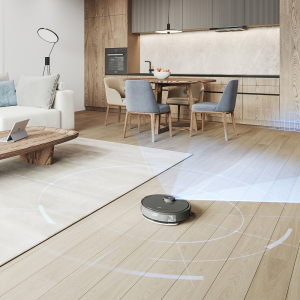 Laser-Based LiDAR Navigation with Advanced dToF Sensors
TrueMapping creates systematic cleaning paths, thanks to an advanced laser-based LiDAR navigation system with industry-leading dToF sensors. N8+ generates maps with 2x the coverage and 4x the precision of previous mapping technology. As it cleans each level of your home, your robot performs 360° scans to ensure the most efficient path for faster cleaning with fewer missed spots.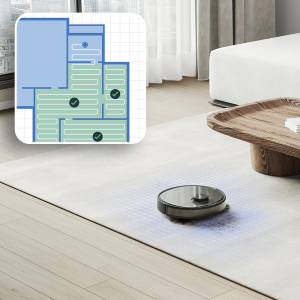 Full-Automated Cleaning
Clean your home any time, even when you're away. With the ECOVACS App, you can take control of your N8+ from wherever you are. Schedule a cleaning and check your robot's progress right from your phone.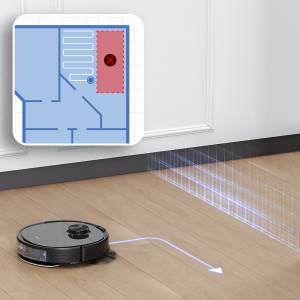 Unlimited Virtual Boundaries
Create custom boundaries for enhanced cleaning control. Keep your robot away from areas you don't want it to go—maybe there's a school project in progress on the floor, or laundry that needs sorting. Simply indicate your no-go zones and no-mop zones. Cleaning can happen when you're ready.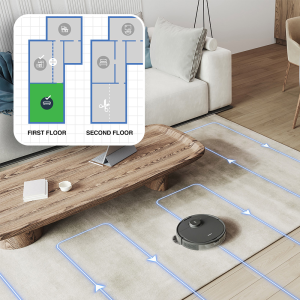 Upgraded Customized Cleaning
Divide and merge areas, label rooms and create multiple maps so you can clean by room on multiple levels. Draw out designated areas on the map that need the most attention, from spills to pet hangouts. Plus, you can assign different cleaning settings to different rooms.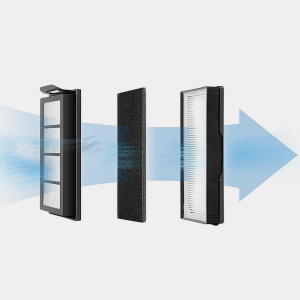 High-Efficiency Filter
A 3-layer dust filtration system removes 99% of micro particle matter and allergens. Breathe easier knowing that the filters effectively capture particles as small as 6 microns.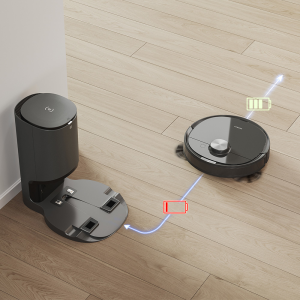 Exceptional 110 Minutes Runtime and Smart-Charge Continuous Clean
N8+ cleans for up to 110 minutes on a single charge and water fill, easily covering 2000 square feet. Then it automatically returns to its charging dock when the battery gets low. Once it calculates that it has enough power to finish the job, your robot gets back to cleaning right where it left off.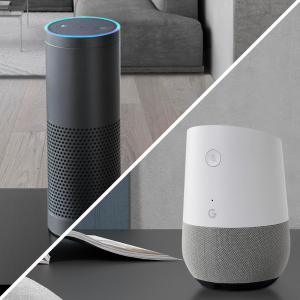 Smart Home Integration
Use your voice for hands-free control with Google Assistant or Alexa, like "Alexa, ask DEEBOT to start cleaning." All you need to do is decide what you'd like your robot assistant to clean and then say the word.
Recommends