Extra Large Hooded Cat Litter Box With Top Entrance
This Hooded Litter Pan combines price, appearance, and quality craftsmanships with multiple features into one litter box making this a great starter pan for your cat. The large Hooded Litter Box features a lowered entry point that provides easy access for older cats and a top exit with cat litter catch design, avoiding cat litter spread everywhere. Besides, the lowered door with a lock design, so that you can control the cat coming out from the lower door or top door. Made from durable plastic with a pull-out bottom tray, which much easier for cleaning. It is also foldable, easy to set up and store.
Features
Anti-splashing and reducing litter tracking
Come with a filter foam to filter odor
Equided with free scoop
Large space, a cat can turn their body around in it, and say goodbye to the narrow uncomfortable litter box.
5.7mm litter holes, when the cat jumps out no litter out, no messier
Drawer structure, convenient for litter replacement or daily cleaning
Enclose design, effectively prevent odor and retain it in the box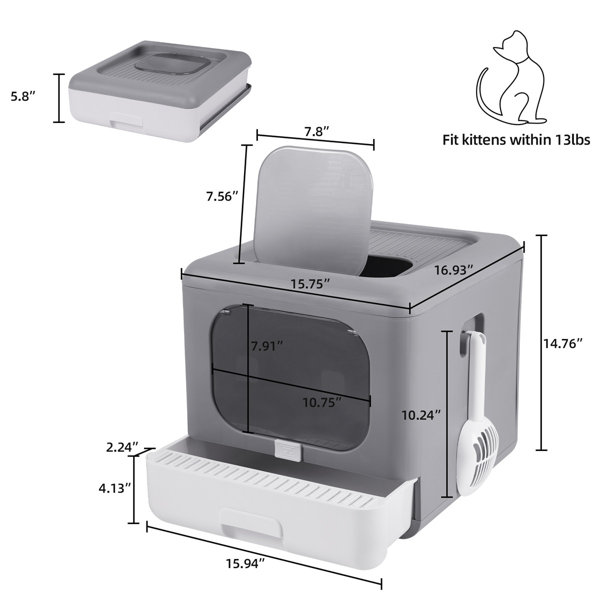 Other Dimensions
Overall

14.76" H X 15.94" W X 16.93" D

Interior

13.5" H X 14.5" W X 15.5" D

Door

7.91" X 10.75" W

Overall Product Weight

4.8 lb.
Features
Product Type

Litter Box Enclosure

Color

Gray

Primary Material

Plastic

Enclosed/Hooded

Yes

Locking Lid

Yes

Door

Yes

Water Resistant

Yes

Odor Control

Yes

Overall Shape

Rectangle

Built-In Scoop

Yes

Sifting Pan

Yes

BPA Free

Yes

Imported

Yes

What's Included

Scoop/shovel

Weight Capacity

13.5 lb.

Durability

Water Resistant
Warranty
Product Warranty

Yes

Warranty Length

90 Days

Full or Limited Warranty

Limited