Purina Fancy Feast Natural Wet Cat Food Variety Pack, Gourmet Naturals Seafood Collection – (30) 3 oz. Cans
Create a gourmet dining experience when you fill your cat's dish with one of the flavors from the Fancy Feast Gourmet Naturals cat food variety pack. Each of these seafaring recipes start with real fish, followed by wholesome ingredients and added vitamins. It's a meal that's fit for a queen! Not only do these meals nourish her body, but the satisfying texture and delicious taste will give her something to purr about each time you crack open a can. Best of all, with this decadent collection on the shelf, you'll know your kitty's dinner is crafted without artificial colors, flavors or preservatives. Give her the 100 percent complete and balanced nutrition she needs, with the exceptional taste Her Majesty expects at mealtime.
Scrumptious collection includes crave-able flavors like Alaskan salmon, trout, tuna and shrimp.
Includes added vitamins and minerals to meet your feline's nutritional needs every day.
Made without artificial colors, flavors or preservatives for a meal that's as real as it is delicious.
Offers 100% complete and balanced nutrition to nourish your cat's overall health.
Features high-quality protein to support your kitty's strong muscles.
Ingredients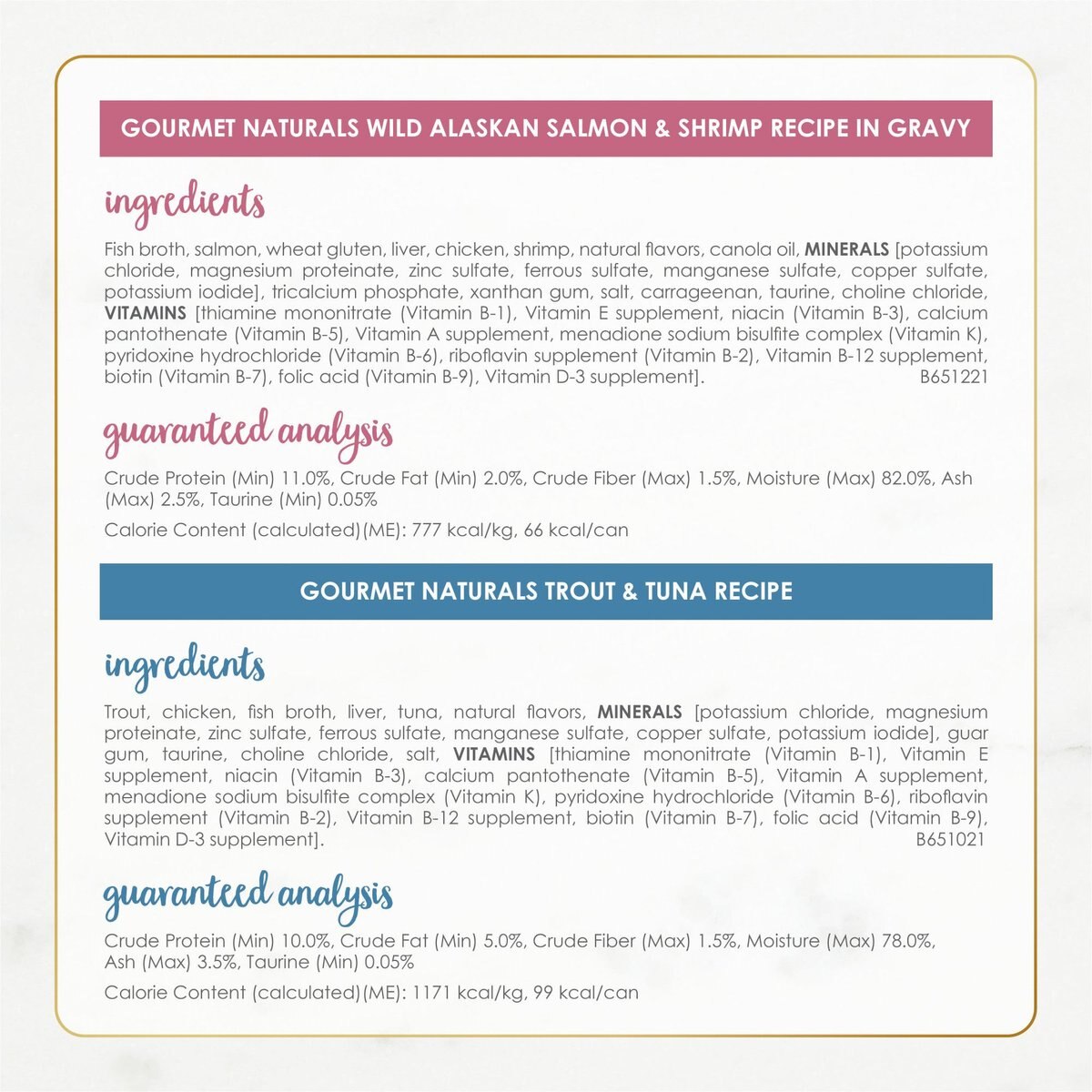 Caloric Content
Tuna Recipe: 746 kcal/kg, 63 kcal/can
Wild Alaskan Salmon & Shrimp Recipe: 776 kcal/kg, 66 kcal/can
Wild Alaskan Salmon Recipe: 1,157 kcal/kg, 98 kcal/can
Trout & Tuna Recipe: 1,174 kcal/kg, 100 kcal/can