Vigor Full Size 6″ Deep Black Food Pan with Secure Sealing Cover – 3/Pack
This kit includes 3 full size food pans and 3 matching secure sealing transport lids. Use this set to prep, store, transport, and serve food items. It is ideal for use in prep tables, refrigerators, and coolers. Versatile for a variety of foods, the pans withstand temperatures from -40 to 212 degrees Fahrenheit so that they can be used in both hot and cold applications. Excellent for transporting foods to offsite locations, this kit is perfect for catering businesses, food trucks, and other mobile operations!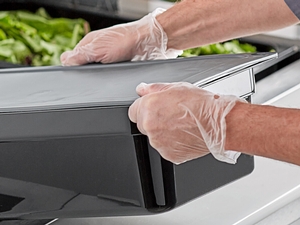 Durable Material
The pans' polycarbonate material is virtually unbreakable and resistant to food acids and oils, helping to extend their life.
Reinforced Corners
Reinforced top and bottom corners on the pans are resistant to bending, cracking, and denting to provide long-lasting use in your commercial kitchen.
Indicates Capacity
Capacity indicators molded in the side in both liter and quart measurements make it easy to quickly and easily complete inventory management and measure out how much you need of any product.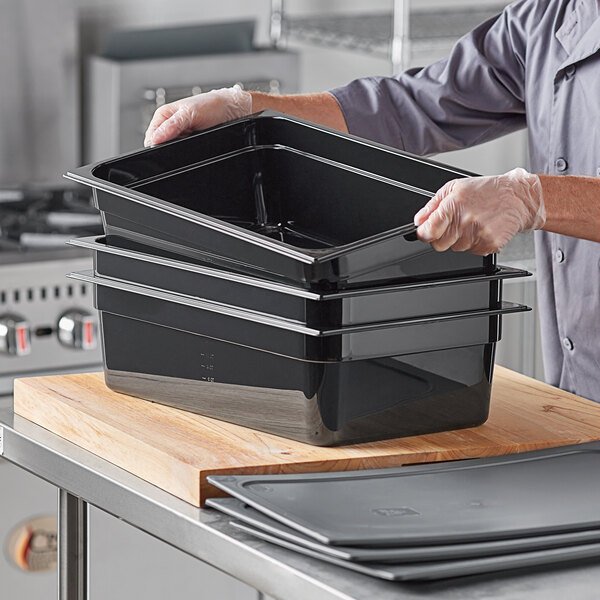 Spoonable and Stackable
The pans' spoonable bottoms make removing contents easier, allowing your guests or employees to scoop up every ounce of food, reducing food waste. Plus, built-in stacking lugs also allow you to stack all your food pans together to maximize storage space!
Seal With Included Cover
The included secure sealing polyethylene covers keep pan contents fresher for longer and protected from outside contaminants and debris. Made of durable polyethylene, they withstand repeated use in busy commercial kitchens and temperatures from -40 to 212 degrees Fahrenheit. While reducing the risk of cross-contamination, the covers also eliminate the need for plastic wrap. Their unique seal offers extra protection against spills and messes. For quick and easy removal of a cover, simply lift the tab on one corner.
Specifications:
Quantity: 3/Pack
Shipping Weight: 4.26 lb.
Length: 20 3/4 Inches
Width: 12 3/4 Inches
Depth: 6 Inches
Capacity: 19.4 qt.
Color: Black
Features: Dishwasher Safe, For Refrigerated Prep Tables, Freezer Safe, NSF Listed, Stackable
Material: Polycarbonate
Maximum Temperature: 212 Degrees F
Minimum Temperature: -40 Degrees F
Shape: Rectangle
Size: Full Size
Style: Solid
Type: Food Pan Sets, Pan / Lid Combos
Usage: Regular Temperature